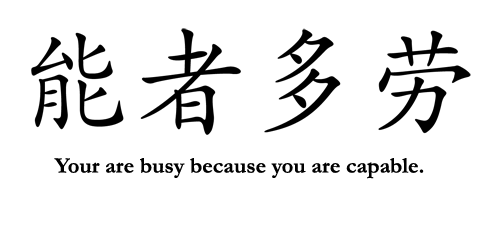 Å dele kontor med folk som kan ordtak på andre morsmål enn norsk kan være gøy.
Kjartan pleide å underskrive mailer i gamle dager med et likende sitat;
You Have To Keep Busy, After All, No Dog Ever Pissed On A Moving Car
…som etter litt googling kan virke som noe Tom Waits kan ha sagt.
Det avbildede er altså kinesisk og sier noe slikt om: «du er travel fordi du er i stand til det». Et betryggende ord når de andre går hjem, og jeg fortsatt har 160 sider igjen av boken jeg skulle ha lest.