Nick Cernis i produktivitetsbloggen putthingsoff.com foreslår å kutte ut bruken av syndikering for oppfølging av materiale på nett, han vil heller bruke e-post. Se posten "Ditch The Digital Itch: Drop Feed Readers Today".
Hele putthingsoff.com handler om å gjøre ting som teknologi har forsøkt å gjøre mer effektivt og trivelig litt mindre teknisk og mer handterlig for folk flest. Men å nedjustere rss til epost er virkelig å gå forlangt. Jeg er ingen rss-junike, selv om jeg har vært, men å gå for epost i stede kan ikke kalles noe annet enn en gedigen missforståelse.
Jeg skal prøve å gjøre dette kort, og sette opp argumentene hans, mot mine:
Å skaffe seg oversikt over sin sfære pleide å være lett, men nå er "vår sfære" så stor, da verden blir stadig mindre.
Selv om vi har et utømmelig hav av informasjon vi kan drikke av, så betyr ikke det at vi må drikke som nordmenn på fest med fri bar.
"Feed readers are attention-seekers, time-hoggers, virtually benefit-free, hard to promote or evangelise, and almost impossible to scale and keep up with as our subscriptions and interests grow"
"What goes up, must come down". Du blir hva du spiser, putter du for mye bakepulver i bollene, får du store vonde boller. Men det er urimelig å skylle på bakepulveret.

Hvorfor er mail er bedre enn rss på oppdateringer online: (3 argumenter fra tredjeparts kommentarer)
"Cheers Nick. I knew about RSS and feed readers, but I've never really understood the advantages. What do they do better than email updates?"
"I thought you said we should all have 'one inbox to rule them all?' I do subscribe by email, though. Honest!"
"Yeah, I had a Google Reader account but I stopped checking it after a while. I dread to think how many new posts are waiting for me…"

Hvorfor er RSS bedre enn mail på oppdateringer online:
Mindre påtrengene. Kategorisert sammen med underholdning, ikke i samme boksen som epost, som ofte er jobb/skole/familie-orientert. RSS er ofte klippet slik at vi bare trenger å lese litt for å se om elementet trenger mer av vår tid. Altså tidsbesparende å så hensyn. Her kunne jeg ha dratt det ut..
"One Inbox to Rule Them All", ehy? – vell, om du vil, så kan du. Men er det virkelig slik DU vil ha all din digitale informasjon? –Ikke for min del i alle fall. Jeg lker også valgfriheten.
Du får for mange nye elementer i din rss-leser: kvitt deg med noen. Du abonnerer vell ikke på 300 papiraviser? Det burde vell være en pekepinn. Du klarer nok noen flere blogger og nettmagasiner enn papiraviser, men likevell. PS: hold deg unna for tekstintensive rss-strømmer, som vg, dagbladet, bt, slashdot, digg.com, popurls.com osv.

"news readers make the experience of reading updates worse."
Uten noen videre forklaring på denne, kan jeg ikke si annet enn at jeg er uenig.
"Whenever something that should be fun–like reading or sex–becomes some kind of dull duty, it's usually a sign that you need to change something."
Igjen: kutt ned på kvantitet, prioriter kvalitet.
"The solution is simple: offer email updates only, and let feed reader users subscribe with the buttons in their browser's address bar."
Vell, det er en løsning på et ikke-eksisterende problem. Det eneste det fordrer er at du bygger en epost-løsning som likner på din rss. Ikke kult i mitt hode.

Hvorfor epost opdateringer er bedre:

1. It scales naturally
– Tøv. Du vill ikke ha 97 nye meldinger i din rss-leser, ergo du vill ikke ha det i din epostinbox heller.
2. It builds a healthier community
– dette er jo usikker på om det er hold i. Det er mulig epost-lesende brukere er mer trofaste, men jeg er usikker. Selv er jeg ikke slik.

"The sad thing is this: news readers breed disinterest. After a short time, you don't care very much about the actual content of the sites you're subscribed to."
Denne lar jeg med vilje være å svre på, men vil peke ut at Nick Cernis forsøk på å iverksette sin idé på putthingsoff.com resulterte i så mange spørsmål etter det forsvunne RSS-ikonet, at han måtte pen sette det tilbake i nettleserens URL-felt.

Dette er illustrasjonen fra Nick Cernis artikkel. Legg merke til setp 3, der mye av kritikken er samlet.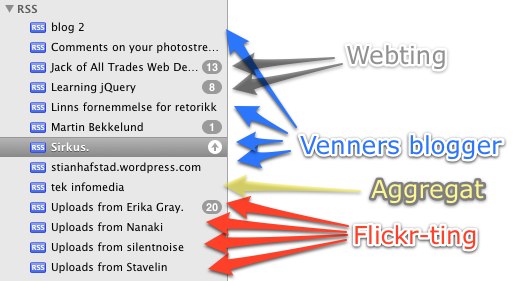 Det trenger ikke være så koblisert. Her ser du et eksempel på en minimalistisk bruk av rss, kun nok til å holde seg oppdatert på noen få nære ting, men er på ingen måte av en slik karakter at det går ut over produktiviteten. Selv når denne blir 3 ganger så stor, så er det kun snakk om minutter for å holde seg oppdatert.
Mer gjerne aktører kan vi følge på twitter eller facebook, de fleste ihuga digitale aktører finner du slike steder.
Jeg synes jeg fortsatt har mange argumenter i forsvar for RSS'n, men lar de ligge for denne gang. Dette burde være nok for denne gang.
Kan vi med det konkludere i at epost ikke kan erstatte RSS?