Upihl, eller Ulrikke Pihls pikeskole, er et bygg med lese-, data- og undervisningsrom for laveregradsstudenter ved SVF UiB. Nå pusses bygget opp, og i dag oppdaget jeg at de har hengt opp plakater med latinske utrykk i inngangspartiet. Men hva betyr de latinske ordene? Jeg har kastet meg over google i jakten på en overfladisk forståelse.

Her: et liknende fenomen på HF-biblioteket. «Amor librorum nos unit», betyr noe sånt som «The love of books unites us» eller på Norsk «Kjærligheten til bøker forener oss».
Plakat på Upihl
Midlertidige google-resultat
Ca Norsk oversettelse

Ipsa scientia potestas est

Herself knowledge power is

Kunnskapen selv er makt / Kunnskap er makt

Veritas lux mea

(veritas – sannhet, lux – lys, mea – meg?)

Sannheten er mitt lys

Facilius per partes in cognitionem totius adducimur

we are more easily led part by part to an understanding of the whole

Vi ledes lettere del for del, for å forstå helheten

Nil actum repute si quid superest agendum

Don't consider that anything has been done if anything is left to be done.

Anta ikke at noe er unnagjort før det ikke gjenstår noe å gjøre.

Divina natura dedit agros, ars humana aedificavit urbes

The divine nature produced the fields, human skill has built cities. -Tibullus

Den guddommelige naturen har skapt jordene, mennesket har byget byer.

Nullum saeculum magnis ingeniis clausum est

To great talents no era is closed.-Seneca

For store talent er intet område lukket.

Timendi causa est nescire

Ignorance is the cause of fear.-Seneca

Uvitenhet er redselens rot

Quo Vadis?

(kurt?)

Hvor går du hen?

Cogito, ergo sum

(endelig en som stod i exphil-pensum)
Jeg tenker derfor er jeg. – René Descartes

Qui non est hodie cras minus aptus erit

He who is not prepared today will be less so tomorrow. -Ovid

Den som ikke er forberedt i dag, vil være mindre så i morgen.

Eo ipso

«by that very act»

Ved den handling

Vincit omnia veritas

Truth conquers all

Sannheten beseirer alt

Dies diem docet

Hver dag er den nestes læremester

Dignus est intrare

He is worthy to enter

Den som er verdig, tre innenfor!

Repetito est mater studiorum

Repetition is the mother of studies/learning.

Repetisjon er læringens mor

Fallaces sunt rerum species

The appearances of things are deceptive. (Seneca)

The outward appearances of things are deceiving

Utseende bedrar
Jeg er hverken lingvist, logofil eller lokal mester i rettskriving, så forbedrede formuleringer mottas med takk i kommentarfeltet.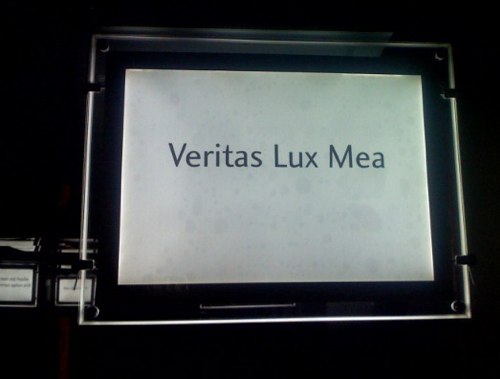 Nå har de jommen meg tatt av lysene i taket, og bruker disse sitatene som belysning i stede..
Veritas Lux Mea indeed.